Last Chance for Free CFO Magazine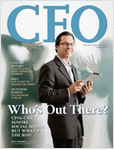 I just found out that CFO Magazine will no longer be available for free to qualified professionals after November 30, 2006.  Sorry about the last minute notice.
CFO may be of interest to several of you.  You can review some of the latest articles published in this trade journal by visiting CFO.com.
Just as a reminder, you might find other interesting free trade journals in my trade magazine directory.